Meet Plus-Sized Ethical Fashion Blogger, Photographer, and Writer: Marielle Elizabeth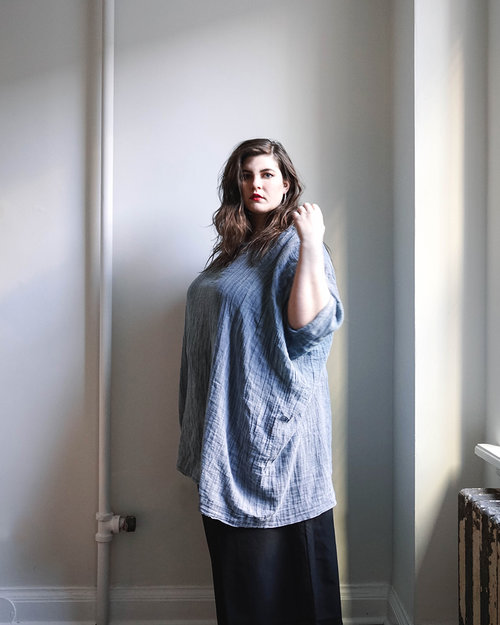 Social Media Monster Feminist, Slow Fashion Cheerleader, Photographer, and Writer.
Hi everyone! We are back with another interview for #BrokeMinimalBabes, which is a series focused on conscious bloggers. Meet Marielle Elizabeth, Slow Fashion Content Creator and Body Positive Plus Sized Influencer and Advocate. Marielle currently resides in Canada.
WHEN DID YOU START BLOGGING AND WHAT DO YOU DO/CREATE?
I started sharing my passion for ethical fashion more conscientiously about two years ago. I launched my official blog at the start of 2018 and I intend to released quarterly installments. It skews more into magazine than blog in length and style.
HOW DID YOU GET INTO CREATING A CONSCIOUS WARDROBE?
I fell in love with ethical fashion at a young age – I was 18 and there was a boutique in my hometown that sold exclusively Canadian made garments. My love of ethical was born out of those designs, so well executed, unique and made with a quality I had never found before. It blew my mind that those garments were made in Canada, that clothing was made by people in my community and that I could support them. I think because I was so young it defined how I shopped for myself. Clothing was to be saved up for, well considered and to be made properly. I am so fortunate to have fallen in love with ethical fashion and to have had such a wonderful place to educate and inspire me. I hope I do that now for others – to ignite that same spark that one day will burn so brightly it touches others.
DEFINE ETHICAL AND SUSTAINABLE FASHION
Oh god – ethical fashion is this massive grey scale that means something different to every person and I think that's wonderful, that there isn't a single pass or fail question that sums it up. I welcome the murky grey area. BUT to attempt to answer your question – ethical and sustainable fashion is considering the things you purchase, who makes them, what impact that garment has on the world (socially and environmentally) and then wearing it, repeatedly, often, with wonderful frequency. I really want my definition of ethical fashion to be inclusive, to call people in that may not be able to buy 100% ethical garments because of the price tag. I think ethical fashion needs to be for everyone, accessible by all, and I truly feel that at it's core ethical fashion should be about wearing the things you have for as long as possible (and all the steps that surround that process).
WHY DO YOU THINK BLOGGERS + INFLUENCERS DON'T SPEAK OUT ABOUT ETHICAL FASHION?
I think we don't want to bite the hand that feeds us. I think there's a lot of fear that in calling a brand out, others won't want to work with us, and I think if we start talking about ethical fashion we have to call into question consumption and frankly there's less money to be made in limiting consumption. If I promote a garment and then keep wearing it, I won't be making more money, selling more things and turning my blog into a profitable space. I also think we fear talking about a brand that maybe isn't 100% ethical and then the accusations that follow from that. Why wade into a hard conversation when we don't need to? I understand why, but I personally want to have those conversations and so I am okay opening myself up to the vulnerability and the reality that I likely won't be able to make a living blogging. And I'm okay with that too.
What are your thoughts on the conscious/ethical fashion movement?
Revolutions are for everyone and the biggest disservice we can do is to make it exclusive. We need way more gender diversity, size diversity, racial diversity, and financial diversity in this conversation. We need to start calling people in and finding ways to invite more into the conversation, we need to start talking about the fact we truly have created enough fabric and garments and how we can still explore fashion without making more. And lastly I think we need to realize the power we have as consumers. The privilege and responsibility we have to ask tough questions and accept imperfect answers from brands we love.
HOW DID YOU GET INTO WRITING AND PHOTOGRAPHY?
I am a plus size woman, just trying to dress herself everyday. And it turns out I'm not the only one searching for advice and to see myself in the people I follow on Instagram. If I can be that source of inspiration, Guinea pig or friend telling you my honest opinions, I am forever honoured to be that voice.
THANK YOU FOR READING THE 4th INSTALLMENT OF THE #BROKEMINIMALBABES INTERVIEW! VIEW THE PREVIOUS INSTALLMENT HERE!!
Check out Marielle Elizabeth's unapologetically bold and inclusive magazine for ethical and conscious fashion reviews, styling tips to maximize your wardrobe, and faith-based encouragement. Don't forget to be-friend this #BrokeMinimalBabe on Instagram.